About Floorcloths
What is a floorcloth?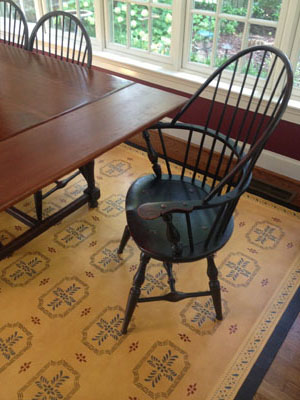 A floorcloth is a hand-painted canvas rug that has been treated to last a long time. The popularity of floorcloths dates back to the time when Europeans first settled in America. Floorcloths were in vogue throughout the 18th and 19th centuries but were gradually replaced by synthetic floor coverings. However, floorcloths have made a great comeback due to the increasing popularity of hardwood floors and the interest in handcrafted art for home decoration. Floorcloths not only protect the surface they cover but also add color, character and style to a room. Since floorcloths are handcrafted, no two floorcloths are alike, even if they have the same design. Each floorcloth is individually crafted to suit one's tastes and design specifications.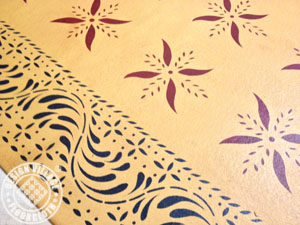 Where can floorcloths be used?
Ideally, floorcloths can be used in any non-carpeted area of the house. They can be placed under the dining or coffee table, in the living room or family room, on the kitchen floor, in front of the fireplace, or near the sink, entry foyer, hallway, children's room, and powder room. Some floorcloths have even been used as wall hangings and as table protectors. We do not recommend using floorcloths outdoors.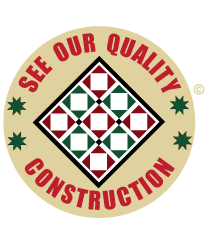 How durable is a floorcloth?
A Design Village floorcloth is long lasting and easy to maintain. Our floorcloth is made of heavy-duty canvas which is primed on both sides. After the primer has dried, the floorcloth is given multiple coats of paint. The design is executed with water-based paints using stencils, blocks or by freehand. Between every coat of paint, the floorcloth is left to dry thoroughly. After the final coat of paint has dried, several layers of protective varnish is applied. This makes the floorcloth surface durable. Therefore floorcloths can be used in high-traffic areas.
Is it easy to maintain floorcloths?
Every Design Village floorcloth is given several protective coatings of non-toxic water-resistant varnish. This makes it resistant to most stains. Wipe with a damp sponge or mop is usually enough to clean it. Occasionally, the floorcloth may be cleaned with diluted white vinegar using a soft scrubbing pad. This will dislodge any stubborn dirt. Please see use and care instructions.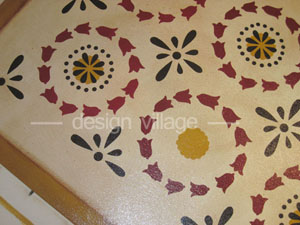 Is it safe to use floorcloths by people with allergies?
Unlike pile rugs and carpets, floorcloths do not collect dust or dust mites. Moreover, any dust on the floorcloth can be cleaned with minimal effort. Therefore a floorcloth is an effective substitute to rugs and carpets in the homes of people with allergies and asthma.
Floorcloths to match the existing decor
Based on the upholstery material, curtains or photographs of a room Design Village will suggest several design and color combinations for a custom floorcloth to choose from. Please see our design process page.