National Magazine Honors Design Village
Design Village Floorcloths have been recognized as one of America's top floorcloth makers by Early American Life magazine, a national magazine focusing on architecture, decorative arts, period style, and social history from colonial times through the mid-19th Century. Our floorcloths have been consistently selected since 2006 because of creative talent and dedication to historical accuracy. These have been included in their Directory of Traditional American Crafts. View our showcased floorcloths at Early American Life website.

The Directory of Traditional American Crafts is a special listing that appears in every August issue of Early American Life magazine. The Directory has been used for the past two decades by curators at living history museums, owners of traditional homes, and motion picture producers for finding artisans to make period-appropriate furnishings and accessories for displays, collections, and use.
"The judges look for authentic design and workmanship, whether the piece is a faithful reproduction or the artisan's interpretation of period style," said Tess Rosch, publisher of Early American Life. "Scholarship, as well as use of period tools and techniques, is particularly valued in this competition."
One goal of the Directory is to help preserve traditional handcrafts, part of our culture that is rapidly being lost in the digital age. Many of these skills were passed down from master to apprentice for hundreds of years, but now few new people choose to learn and master them. "If our traditional arts are lost, we have forgotten a part of who we are as Americans," Rosch said.
"The Directory is a source for collectors and historic museums eager to own fine, handcrafted, period-accurate objects and also a means of supporting those who perpetuate the art forms that are such an important part of our nation's heritage," Rosch said. To learn more about Early American Life, for subscription information, or to purchase a copy, visit www.EarlyAmericanLife.com.
Our floorcloths selected by Early American Life Directory of Traditional American Crafts
2012 Selection :: Jackson Swann House Floorcloth
Historic Collection
Motif from Edward Durant House Newton, Massachusetts and a border from Jackson Swann House, Scituate, Rhode Island.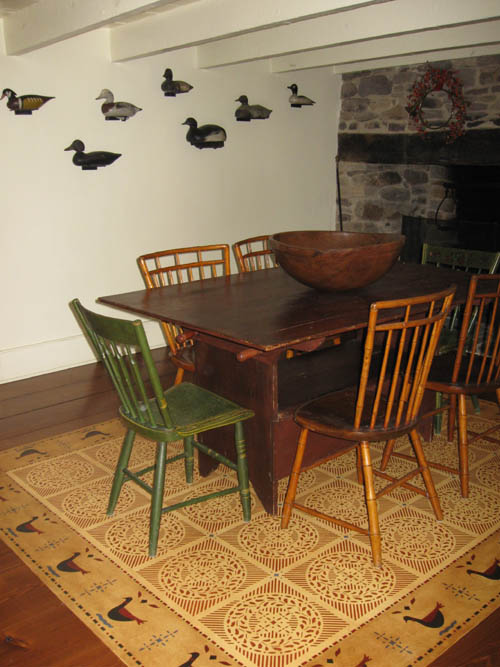 2011 Selection :: Willow with Ebenezer Border Floorcloth
Historic Collection
Willow motif from Peterboro, New Hampshire and a border from Ebenezer Waters House, West Sutton, Massachusetts.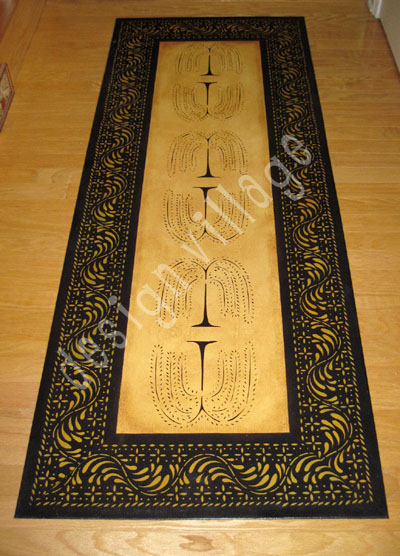 2010 Selection :: Durant House Floorcloth
Historic Collection
This design is a reproduction stencil from the Edward Durant House, Newton, Massachusetts
( House built circa 1734; stenciled circa 1780 )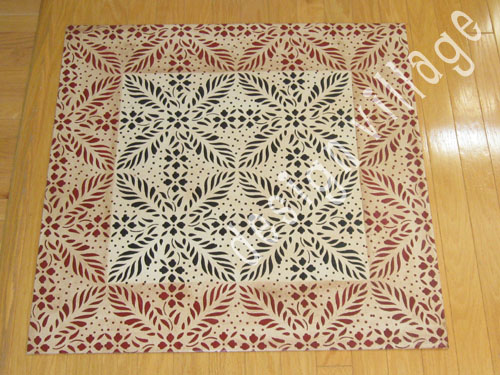 2009 Selection :: Diamond Pattern Floorcloth with Lunenburg Motif
Historic Collection
Authentic floor design from Lunenburg, Massachusetts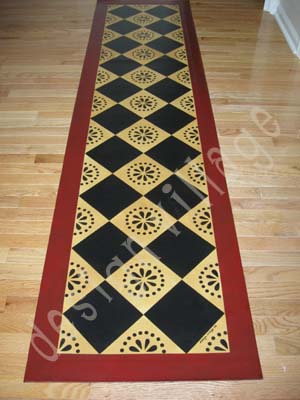 2008 Selection :: Blue Willow Floorcloth
Historic Collection
Willow stencil from Peterboro, New Hampshire, and border stencil from Bump Tavern at the Farmer's Museum, Cooperstown, NY.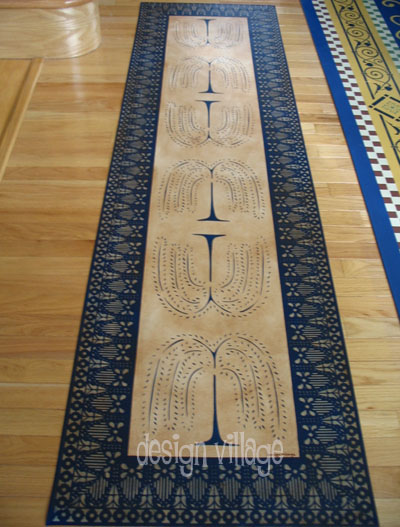 2007 Selection :: Diamonds with Durant House Border Floorcloth
Historic Collection
This design is a reproduction stencil from the Edward Durant House, Newton, Massachusetts
( House built circa 1734; stenciled circa 1780 )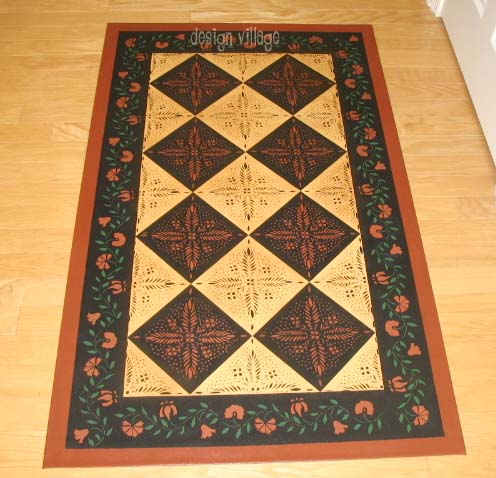 2006 Selection :: Early American Quilt Floorcloth
Selected for Early American Quilt Floorcloth - Eaton Moses Collection