Questions About Floorcloths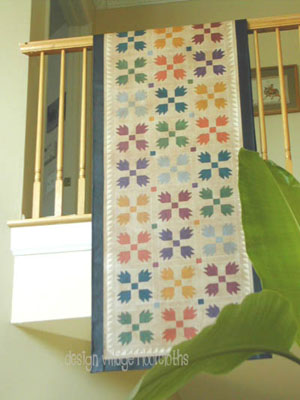 Where are Design Village floorcloths made?
Design Village floorcloths are handmade at our studio near Princeton, New Jersey.
Are Design Village floorcloths hand painted?
Every Design Village floorcloth is hand-painted and hand-crafted.
Do you do shows?
We do a few shows from time to time. Here is the link for upcoming shows

Questions related to non-skid padding
Why you don't recommend non-skid coating on your floorcloths?
Non-skid padding picks up unwanted dirt, sand, pet hair, gets tacky when wet and is not removable.
Do you recommend attaching non-skid pad permanently to floorcloth?
We don't recommend permanently attaching non-skid padding to the floorcloth. Non-skid padding, which is made of rubber, has limited life whereas our floorcloths last for decades. We also don't recommend rolling floorcloth along with non-skid padding. If you store floorcloth with non-skid padding depending on the quality of the padding, rubber residue may permanently stick to the top surface of the floorcloth which will be difficult to remove.

Questions related to showroom / studio /printed catalog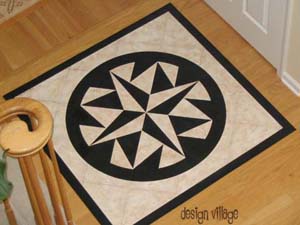 I am looking for a floor cloth and have been reviewing your site I notice that your phone number (like mine) has a 732 area code. I'm wondering if you have an office or store here where I could come see the designs. You don't mention one, but thought I'd check. I'd love to see the designs in person. thanks.
Due to insurance requirements our studio is not open to visitors. However, we will gladly mail you swatches. Please call for stenciled sample swatches.
Do you have a printed catalog you could mail me?
We don't have a printed catalog, since we continuously add new designs to our gallery. All the designs we offer at this time are on the website.
Do you have a showroom?
Sorry, we don't have a showroom.

Questions about the custom orders
Do you make custom made floor cloths? Could I send you fabric samples from the room. I am interested in the toile rug. I need 3 rugs. They are for a kitchen. We do a lot of cooking, and I would like to know if a cloth rug would be sturdy enough in front of stove, sink , dishwasher etc
We do make custom designed floorcloths. Our floorcloths are designed for high traffic use. The finish on the floorcloth is water/stain resistant. Floorcloths are perfect for kitchens as long as you don't leave puddles of water on it.
Looking for a 6' round or square. do you have anything available?
We can make 6' square floorcloth with any design. Generally, round floorcloths are not recommended because their edges cannot be folded. Eventually, they will curl up and/or fray at the edges.
I am interested in purchasing a floorcloth for my living room. The designs on your web page are beautiful. It is difficult, however, to tell by the pictures if the colors would compliment or fight with my furniture. If I am interested in having a custom cloth made, could I send you a fabric swatch so that your artists could select the colors that would compliment my current color scheme?
Yes, you are right. In order to match the colors of the floorcloth with your living room, I would need swatches of fabric, curtains, wall colors, and color of the floors. Based on your swatches and pictures you provide I will create a few mockups and will mail you color samples on canvas for your approval.

Concerns about floorcloth
We love your floorcloths - what is on the back of the floorcloth to hold it secure on my oak floor?
We recommend the use of rubber-backing, available at most home improvement or carpet stores.
I am extremely interested in one of the beautiful floor cloths that you offer and am wondering how they stay on the floor and not slide around like a cloth? Is there any rubber backing on them?
Floorcloth will not slide or move if you use non-skid rubber pad (rug gripper), available at most home improvement or carpet stores. This provides an additional grip and reduces wear and tear.
Can you make a black and white checkerboard with a black border, runner, for a laundry room? Would it hold up in a laundry room?
We can make floorcloth with black and white diamonds with black border. Design village floorcloths are water resistant, they will hold very well in a laundry room.
Your floor cloths are just stunning! Can they be used as stair treads? If so, how would I attach them to the stairs?
Floorcloth runners can be installed on stairs using stair rods.
Can your floorcloths take a beating as a runner for a heavy traffic area, where people will be walking through the door with their winter boots (although the boots will be deposited inside a nearby bench)?
Our floorcloths are designed for high traffic area. The protective layers on the floorcloth are water/stain resistant. We recommend the use of non-skid rubber pad (rug gripper), available at most home improvement or carpet stores. Nails sticking out of ladies high heel dress shoes may, however, cause scratches.
Can floor cloths be vacuumed easily?
Yes, floorcloths can be vacuumed, even daily.
How do they hold up in high traffic areas? (e.g., foyer) 2) My kitchen floor is tiled (badly) so the grout lines are below the tile. If I use a thick rubber mat, would that be sufficient t (I realize the floor needs to be perfectly flat).
The care of a floorcloth is as easy as vinyl or hardwood floors. If it's soiled, just use a damp mop. Regular vacuuming is recommended. The 8 layers of varnish protect the painting and provide an extremely durable surface. Floorcloths are not recommended for use over carpet, but are designed for use on hard, even floors. For tiles with deeper grout lines we recommend use of non-skid rubber mat and felt pad.
I was curious what the lead time is on your floorcloths? Also, how are they packaged for shipping? Finally, how long can I expect it to hold up in a high traffic area (my kitchen...with kids!!)? Is there a warranty?
Depending upon the work load the lead time would vary from 3 weeks to 8 weeks.
We pack our floorcloths extremely well so they don't get damaged in transit. Our floorcloths are rolled in a plastic coated paper and rolled around a 4" tube. Then it is double wrapped in plastic bags. Finally it is packed in a corrugated Box (200lb Test) with packing peanuts. Since 2001 we have shipped hundreds of floorcloths nationwide and never had an issue with packing. In fact our customers appreciate the care and efforts we take in packing our floorcloths.
We have been making/using floorcloths since 2001. They hold very well in high traffic areas especially the kitchen, foyer, etc. There is no warranty on the floorcloth. However, if you follow the use and care instructions our floorcloths will last many many years.
How to know the status of my order?
Our customers appreciate the way we run through the entire process of creating their individual floorcloth. We update you periodically on the status of your order on customer preview gallery.
Your floorcloths are beautiful. What materials go into making the floorcloths? Are they safe for the heavy use of infants and toddlers? Thank you so much.
All paint products we use are water-based and non-toxic. Our floorcloths are scratch and water resistant. They are perfect for nursery or children's room because they are easy to maintain. Here is the link for construction of Design Village floorcloths.

Questions about floorcloth
The floorcloth I have purchased from other manufacturer has started cracking when I try to roll or unroll. How do I prevent the floorcloth from cracking?
Some floorcloths coated with polyurethane and similar materials don't hold well due to lack of flexibility. After a couple of years they start cracking because polyurethane hardens with age. There is nothing you can do about it. Just don't roll or unroll the floorcloth.
I have purchased a floorcloth from eBay. It looked gorgeous online. When I received it I realized that the surface is very shiny, it looks like made out of plastic. It doesn't look appropriate in my historic home. Does your floorcloths have shiny coating?
We don't use polyurethane for our floorcloths. Our custom blend top coat is matt finish. Floorcloths made with Oil based polyurethane will have shiny look and they look more like a linoleum than a hand painted canvas rug.