Calculate Made to Order Floorcloth
When ordering, please email the floorcloth title, size, and quantity as well as the shipping address and your phone number.
Size
Total Sq.
Group A
Group B
Group C
Group D
Shipping
Custom
Sizes
$ Per Sq. Ft
$30
$35
$40
$45
2x3
6
$180
$210
$240
$270
$70
2x8
16
$480
$560
$640
$720
$90
3x5
15
$450
$525
$600
$675
$110
5x7
35
$1050
$1225
$1400
$1575
$140
6x8
48
$1440
$1680
$1920
$2160
$190
7x9
63
$1890
$2205
$2520
$2835
$250
8x10
80
$2400
$2800
$3200
$3600
$320
9x11
99
$2970
$3475
$3960
$4455
Freight
Calculate Custom Size Floorcloth

Besides our standard sizes listed in the chart above, we can make floorcloths of custom sizes. Your floorcloth can be custom made to order.
Delivery Time For a Custom Floorcloth
Delivery time depends on the size of the floorcloth and the amount of work we have at the time the deposit is received. Due to the fact that each floorcloth is hand crafted to order, and each one is a one of a kind, please expect slight variations. Also, with this in mind, please expect 3 to 4 weeks and a little longer during busy months to complete your heirloom.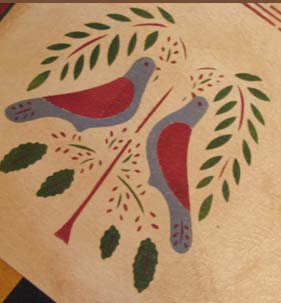 Please place your holiday orders well in advance to avoid disappointment. We do not accept rush orders - we do not compromise the quality.
P. S.: The sizes and rates listed are for the finished floorcloths after hemming. Some merchants may charge for the floorcloth prior to hemming, which may add up to 15% to your cost.
Payment

You may pay by check, money order, or we accept credit card payment through PayPal. You don't need to have a PayPal account to pay via PayPal. Since all work is made to order, it is subject to prepayment. A 50% non-refundable deposit is required to confirm orders with the balance due before shipping. Please do not send credit card info via email.