How to use your floorcloth
Unrolling your floorcloth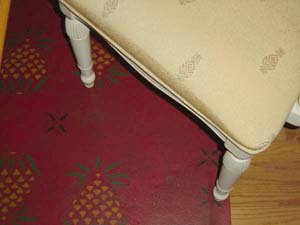 After receiving your floorcloth, let it reach room temperature before unrolling. A floorcloth can stiffen up in cold weather, however once it gets to room temperature it becomes flexible. After unrolling, the floorcloth should be set on the floor and allowed to flatten out naturally so as to prevent any cracking of paint. Do not force it to flatten. It will flatten with time.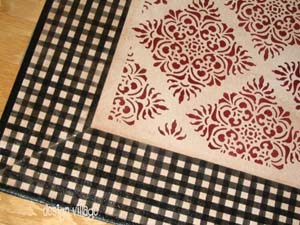 Installing your floorcloth
Floorcloths are not recommended for use over a carpet and are designed for hard even floors. Before installing your floorcloth, clean the floor thoroughly by vacuuming. Small dirt particles may be cleared by damp mopping. Such particles can cause visible bumps and uneven wear of the floorcloth.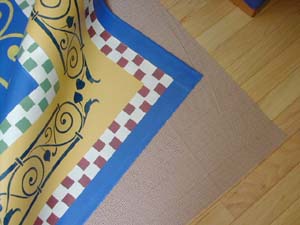 Non-skid rubber padding
We recommend use of non-skid rubber pad (rug gripper), available at most home-improvement or carpet stores. This provides grip and reduces wear and tear. Make sure the legs of any furniture that will be placed on top of the floorcloth have protective glide caps or felt pads. This makes it easier to move the furniture and prevents scratching. Please take care not to move chairs while sitting. This may cause uneven stretching and wear. Nails sticking out of ladies high heel dress shoes may cause scratches.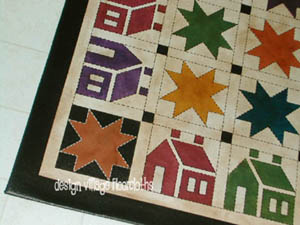 How to clean your floorcloth
A floorcloth should be vacuumed regularly. After vacuuming the floorcloth, flip the corners and vacuum underneath the edges. If soiled, wipe the surface with mild soapy water or white vinegar and water solution. Do not use heavy duty cleaners which may damage the paint or cleaners that leave a sticky film, such as Murphy oil soap. If ever your floorcloth gets damaged or the edge appears worn after a few years: a) lightly scrub the affected area using soapy water, b) let dry, c) gently sand loose paint, and d) touch up with a matching color acrylic paint. Please feel free to order matching touch-up kit, if necessary. Spilled liquids and food should be promptly wiped with a dry cloth.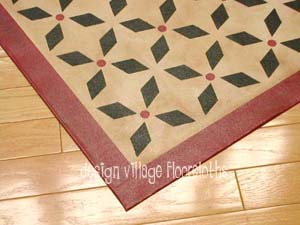 How to move and store your floorcloth
Moving a large floorcloth without damaging requires only a few minutes. We recommend rolling the floorcloth on a tube with a minimum four inch diameter - the painted side facing out and secure with a clean plastic cling wrap. Please call us for rolling instructions before packing your large floorcloth. Never roll a floorcloth along with it's non-skid pad. Do not fold or bend your floorcloth. Store in a cool dry place away from extreme heat and moisture. Do not leave your floorcloth outside in the weather or sitting in water. Please follow unrolling instructions above when ready to use.

Enjoy your unique floorcloth!
Find out more about construction of Design Village floorcloths.